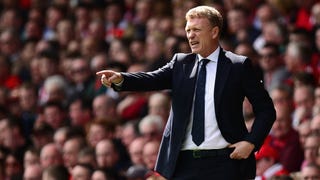 After a miracle at Etihad, two goals in stoppage time, gave City its first title since 1968, the team today celebrated with a parade. The trophy was carried through the streets of Manchester on an open-top bus, attended by delirious fans and at least one jubilant forward who does not forgive or forget.
It figured that tempers would flare a few times during yesterday's pivotal Manchester derby, but perhaps the greatest drama took place outside the touch lines when City manager Roberto Mancini and United chief Alex Ferguson got into a chippy war of words that took several attempts to separate by assistants and…
Sir Alex Ferguson, manager of Manchester United who recently served a five-game suspension and paid a £30,000 fine for criticizing a referee after a 2-1 loss in March, has once again been charged with improper conduct for publicly speaking about a referee.
This post, written by Richard Gilzene, is republished with permission from The Spoiler. Go there often if you like soccer stuff.