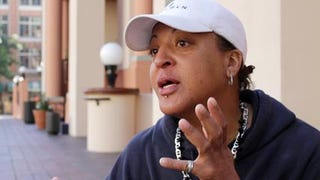 As American Gladiator "Storm," Debbie Clark made $1,500 a day. The time since has roughed her up, though. She and her 10-year-old son Crayton have been homeless in San Diego for more than two years, reports AOLNews.
Awesome: Mike Adamle, the old American Gladiators announcer, is going to debut for the WWE this Sunday at the Royal Rumble. Awesomer: The news was posted by "Larry Csonka." [411mania.com]
As you might have heard, NBC is bringing back "American Gladiators" as a midseason replacement this year. This is, of course, outstanding news, though we have a feeling they'll make everybody cut their hair.
If you haven't had the opportunity to revel in the "American Gladiators" reruns on ESPN Classic — truly the greatest programming currently airing on the vast family of networks — we can't recommend them enough. Just Call Me Juice discovered this little piece of genius, which is the least you can expect from a man…
12:00, ESPN2. IndyCar Racing. Indianapolis 500 Time Trials.
12:00, ESPNU. College Lacrosse. Georgetown vs. Princeton.
1:00, ESPN Classic. American Gladiators. 7 consecutive episodes.
1:30, TBS. MLB. Atlanta Braves @ Pittsburgh Pirates.
2:00, NBC. PGA Golf. The Players Championship, Final Round.
2:00, CBS. College…
If you're struggling to find something to help pass the time before this evening's festival of basketball, I can't recommend ESPN Classic strongly enough right now. We're in the midst of a 7-episode American Gladiators marathon, starring Zap, Gemini, Malibu, Sunny, Joe Theismann, and a contestant named Ursula who I…