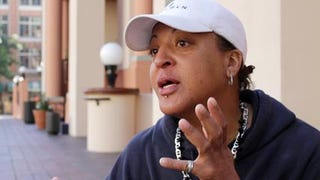 As American Gladiator "Storm," Debbie Clark made $1,500 a day. The time since has roughed her up, though. She and her 10-year-old son Crayton have been homeless in San Diego for more than two years, reports AOLNews.
Awesome: Mike Adamle, the old American Gladiators announcer, is going to debut for the WWE this Sunday at the Royal Rumble. Awesomer: The news was posted by "Larry Csonka." [411mania.com]

Shortly after the new year, that "American Gladiators" show premieres on NBC. (It doesn't require much, you know, writing.) As longtime fans of the original, we are warily optimistic about this ... at least we were, until we read this on-set report.
As you might have heard, NBC is bringing back "American Gladiators" as a midseason replacement this year. This is, of course, outstanding news, though we have a feeling they'll make everybody cut their hair.
If you haven't had the opportunity to revel in the "American Gladiators" reruns on ESPN Classic — truly the greatest programming currently airing on the vast family of networks — we can't recommend them enough. Just Call Me Juice discovered this little piece of genius, which is the least you can expect from a man…
12:00, ESPN2. IndyCar Racing. Indianapolis 500 Time Trials.
12:00, ESPNU. College Lacrosse. Georgetown vs. Princeton.
1:00, ESPN Classic. American Gladiators. 7 consecutive episodes.
1:30, TBS. MLB. Atlanta Braves @ Pittsburgh Pirates.
2:00, NBC. PGA Golf. The Players Championship, Final Round.
2:00, CBS. College…
If you're struggling to find something to help pass the time before this evening's festival of basketball, I can't recommend ESPN Classic strongly enough right now. We're in the midst of a 7-episode American Gladiators marathon, starring Zap, Gemini, Malibu, Sunny, Joe Theismann, and a contestant named Ursula who I…