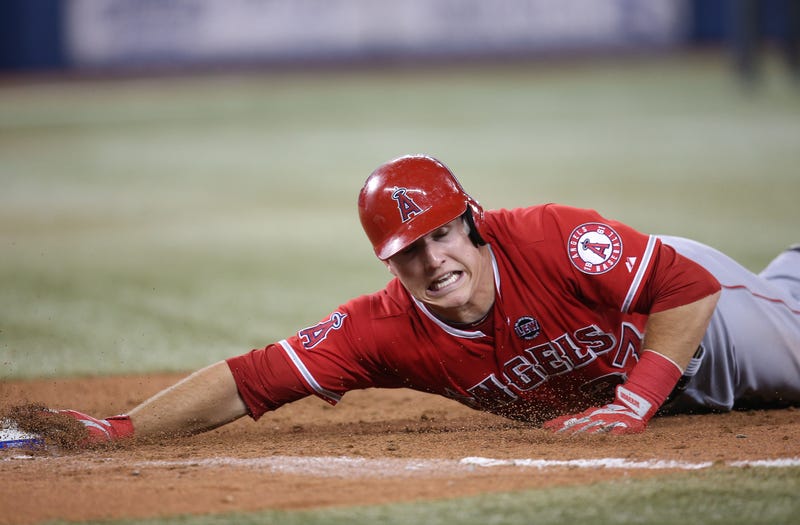 For the past few years, Mike Trout has been the biggest steal in sports. He's had two otherworldly seasons, and he's only 22. So on the surface, news that the Angels are trying to lock him up to a six-year deal worth about $150 million makes sense. But it's actually remarkable for how much sense it makes.
The Athletics and the Yankees clinched their respective division titles on the same day, but the paths they took to get there were very different. The A's budget freight train slammed through a Rangers squad that had sat atop the AL West for over 170 consecutive days, while the Yankees barely edged the Orioles despite…
Four-time All-Star Torii Hunter was at home this afternoon when his security alarm started going off. The cops showed up, didn't believe he lived there, and actually drew their weapons on him. Hunter relayed the entire ordeal via his Twitter feed:
The All-Star Game is in Anaheim next month, so in the tradition of shameless corporate sponsorship, MLB created 30 Mickey Mouse statues, each one honoring a different pro team. Naturally, the Red Sox Mickey has been brutally violated.
News And Views From The Land Of Stealing Wireless ...
· Reds slugger has figured out why the Cubs always suck. [Red Reporter]
· Padres outfielder Mark Sweeney looks suspiciously like Vanilla Ice. [Gas Lamp Ball]
· Borderline crazed Angels blogger ready to kill "ASSHOLE UNCONSCIOUS RACIST AMATEUR DICKLESS DOLTS." […
What you missed due to your late-night experiments to re-animate the dead ...
· Left Coast Chronicles: Guerrero's slam vaults Angels past A's.
· "I regret nothinnnnnngggggggggggg!" ... Fan jumps from upper deck, into netting at Yankee Stadium.
· After a year off, now they're signing every peice of paper that's shoved…