From Kelsey Campbell-Dollaghan: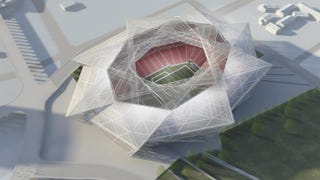 From a pair of ideas floated in April, the Falcons have chosen the official conceptual design for their new stadium, set to begin construction next year. It features an eight-piece roof that will twist closed—essentially an iris diaphragm. We hereby nominate, for a nickname, "The Sphincter."
Elizabeth A. Harris's New York Times piece today asks the question everyone else forgot to ask: Why is the Barclays Center, home of the relocated and rebranded Brooklyn Nets, covered with rust?
So now the ballpark of the moment is glassy and modern and full of moving fish, leaving the retro-style ballparks of the previous moment kaput. What happens to all those teams that are stuck with suddenly unfashionable nostalgia-parks? (And are stuck with them for a very long time.)