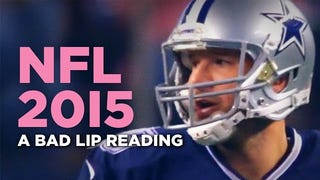 You know how every year, a bad NFL lip reading video hits the streets and something in it funny happens, like Greg Gumbel turning to Trent Green and saying, "Did I mention that I never planned to serve you rodent meat?" and you chuckle to yourself a little bit? You know what I'm talking about. Don't lie. Well, here's…
In case you missed it last week, Bad Lip Reading put together a pretty funny video dubbing over some NFL players. One of the highlights was Adrian Peterson—full of childlike wonder—asking Pam Oliver for an orange peanut. You can check out that moment here.
If you use the internet on a regular basis, you've probably come across one of those Bad Lip Reading videos. Many of them are funny, but this one in particular caught our attention because it features NFL players.