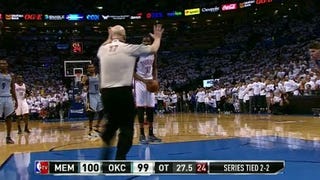 Well, this was inevitable. We all knew that, at some point during these playoffs, Joey Goddamn Crawford was going to find away to thrust himself into the spotlight and whip up some controversy, because Joey Crawford is the worst.
In the second round of the 2012 NCAA tournament, 16th-seeded UNC-Asheville trailed top-seeded Syracuse by three points with 38.2 seconds remaining, Orange inbounding the ball. This was a big moment for the Bulldogs, and it would prove to be a big moment, too, for a man whose name and face you wouldn't even recognize.…
The Spoiler hasn't felt this sorry for a linesperson since Sian Massey's career was stalled thanks to a couple of old sexists and those well-meaning tabloids with their lovely headlines and ability to get pictures off Facebook.
Vancouver forward Alex Burrows received three penalties last night—including one that led to the game-winning power play—courtesy of referee Stephane Auger. Which shouldn't be surprising since (according to Burrows) Auger warned him that payback was coming his way.
Here's a list you don't want to be on: The most notable referees who have been threatened with death for being bad at their jobs. It's not a very select group, either. [Off The Post]