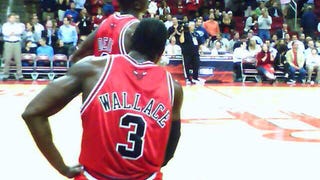 Because we attended school (occasionally) at the University of Illinois, most of our old friends are fans of the Chicago Bulls, and it's difficult to overstate how excited they were when they initially signed Ben Wallace. It felt vindicating, the reward for waiting for the first post-Jordan star. That didn't work out…
Notes on Tuesday's games in the National Basketball Association ...
You're probably tired of hearing about NBA mascots attacking the police while driving mini-motorcycles at outdoor festivals — we know we are — but this one has a slight twist. The mascot, Benny the Bull of the Chicago Bulls, threw a punch at a sheriff's deputy, knocking off his glasses. The best part (to us) is that,…
So here's a phrase you weren't ready to hear on a Thursday morning: "Ben Wallace Blow-Up Doll."