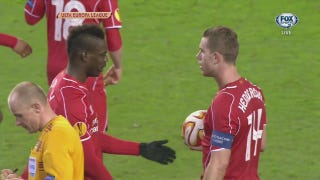 Liverpool were hosting Turkish side Beşiktaş in the European Soccer NIT today, and it was scoreless until Liverpool young cock Jordon Ibe was tripped up in the box in the 85th minute. Penalty! Captain-for-the-day Jordan Henderson picked up the ball and walked to the spot, which is when hero and burgeoning…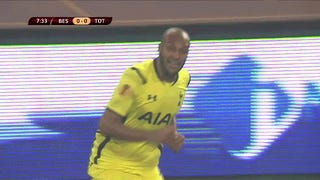 Play was temporarily suspended in today's Beşiktaş-Tottenham Europa League match when the power in the stadium went out in the eighth minute. In the interim, fans used the glow of their cell phones to light up the place. Here's video of when the lights went out, and some cool shots of fans waving their phones:
In European soccer, where idiots on the field are tolerated more than they are here, sometimes the only modicum of justice can be meted out by the players themselves. At least that's what two Besiktas players must have thought when they decided to stomp out one fan who reportedly kicked their teammate.
When Galatasaray's Semih Kaya adeptly directed a ball past his own goalkeeper this weekend, it knotted the much-anticipated Istanbul Derby vs. Besiktas at two goals a piece with fewer than 20 minutes remaining.
Let it be known that no one shall ever be issued the number 8 jersey for Beşiktaş, in tribute to the weeks and weeks of service of one Deron Williams. Hailed as a conquering hero when he arrived this summer, the end of the NBA lockout forced Williams to bid farewell to his Turkish team. He remains the biggest name…
No, this is not footage of a coup d'état in Turkey, this is footage of the violence that broke out between soccer fans before the Bursaspor-Beşiktaş game this past Saturday. The Turkish Football Federation had to cancel the game after angry fans rioted, injuring 25 policemen.