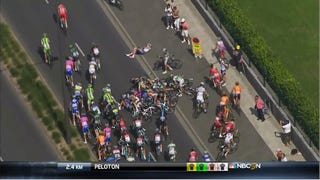 No crash is a good crash, but the worst crash might be when a lot of riders are packed tightly together in a narrow space, as they were just before the finish line of today's Stage 12, which went from Fougères to Tours.
This video comes to us via good old Jimmy Traina, and god damn. Sunday's Rock Lititz Tour in the heart of Amish Country was highlighted by this brutal crash, and maybe your turn is too sharp when the two race leaders both hit the barricades. According to the YouTube uploader, the first cyclist was up and walking,…
Last week, I posted this video of a bike collision between an easily distracted helmet-cammed bicyclist and a jaywalking pedestrian. It proved to be fairly popular and elicited a strong reaction. Here are some emails I got.
A guy riding his bike with a shoulder-mounted camera hits an old man. Words are exchanged. Disputation seems inevitable. Then both graciously agree on their mutual culpability and move on. Moral: Old people need to watch where the fuck they're going.