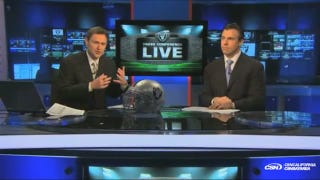 NFL commentator and sex advice columnist Bill Romanowski showed the same fire that made him one of the league's scariest players to face on the field in a live TV rant about perceived weaknesses in the Oakland Raiders organization.
Bill Romanowski wants to coach the Broncos. "I truly believe that I'd be the best person in the country for the job. I can't stop thinking about this." [9News Colorado]
If John McCain seemed a little feisty during his presidential debate with Barack Obama last week, there's a good reason for it. His campaign claims that he began taking an herbal supplement designed to "enhance memory and keep energy levels up" in preparation for the showdown. Makes sense—until you learn that he got…
In life, I guess it's best to stick with what you know, which is how a guy like OJ Simpson ends up trying to sell books about how to kill people. Along those same lines, it makes all the sense in the world that Bill Romanowski, former linebacker and admitted steroid abuser, is launching a "supplement" company called…
Back before there was Tony Romo, God of all that he surveys, there was of course the original RoboRomo, the steroid-addled, spitting monstrosity that is Bill Romanowski. The Other Romo was considered one of the cutting edge steroid users, and he admitted using them not only to "60 Minutes" but also to promote a movie
Today's first athlete run-in story is about one of our favorite targets around here: Former NFL steroid freak Bill Romanowski, from Tia in Denver. Important to note in this story that Tia is female.