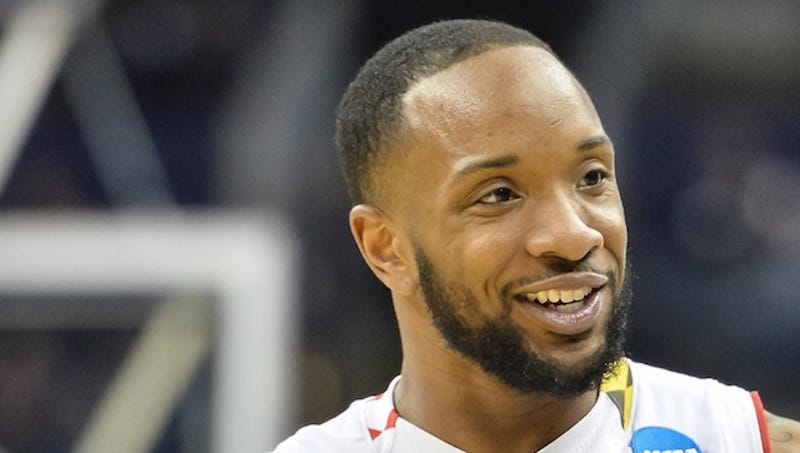 Maryland guard Dez Wells was kicked off the Xavier men's basketball team in 2012 after being accused of sexual assault. An Ohio grand jury ultimately decided not to bring charges against Wells, and he later settled a lawsuit filed against Xavier. It's something he still hears about from opposing fans, and while his…
A number of current and former college basketball coaches—Billy Donovan, Roy Williams, Bob Knight, Jamie Dixon, among others—gave presentations at a Nike clinic over the weekend at Robert Morris University in suburban Pittsburgh. But according to an eyewitness, West Virginia's Bob Huggins is the only one reported to…
Huggins, the bail bondsman who coaches college basketball games in his spare time, showed up to a fundraiser wearing shiners on either eye. The explanation? He lost a fight with his bathroom door. It happens.
It's almost as if Bob Huggins doesn't have control of his players. Even when they're at Pittsburgh Pirates-Colorado Rockies baseball games. Hey, if you can't get drunk and fight at a baseball game what kind of country do we live in? Joe Mazzula and Cameron Thoroughman face
several charges
. Cue the AP: Has anything…
One of our favorite innovations on this here Internets is the ability to track flights online using their flight or tail number. We've never been on a flight that has Web access, but if we ever do, we're gonna track ourselves, because if the flight crashes, we'll want to be the first ones on the plane to know.
• Like everyone else who is prone to breaking their spine whenever there's a stiff wind, we've always had an affinity for kickers. So when Cowboys bully tackle Larry Allen went after former XFL kicker Jose Cortez after he missed an extra point — to be fair, Cortez got a little lipp — we cringed the cringe of the tiny…