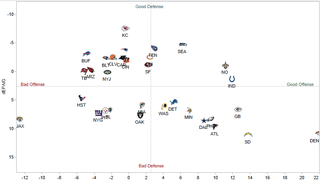 Over at Advanced NFL Stats, Brian Burke has put together a great visualization plotting the offensive and defensive performance of the league's 32 teams. It's nothing too complicated—basically a NYMag Approval Matrix for football—but it reveals a lot about the state of the NFL through Week 5.
The murmurs began last week, before the Broncos put up 51 points against the Cowboys and the Jaguars lost second-overall pick Luke Joeckel to injury. And when the dust of Week 5 had settled, sure enough, the betting line for Jaguars at Broncos was set at 28 points, which is a lot.
Mayors of rival cities make cities make light-hearted bets on the outcome of sporting events all the time. Just yesterday the Packers-49ers game had chocolates, cheese curds, sparkling wine, "a free admission day to the Children's Museum" and bread, beer, more chocolates and a "a free admission day at the…
For this week's Deadcast, we brought on Michael Silver from Yahoo Sports (who sounds remarkably like Leonardo from Teenage Mutant Ninja Turtles) to talk about the Jay Cutler situation. And retractable third arms.