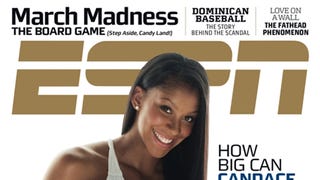 The WNBA actually backloaded L.A.'s schedule to accommodate Candace Parker's maternity leave; the Sparks have played 5 fewer games than any other team. I only noticed this while playing Streak For The Cash, I swear.
Parker returned yesterday against the Mercury, and once again sportswriters found themselves talking about her boobs: "Just before the game, Parker had to pump breastmilk in the locker room for her daughter's post-game feeding." [LA Daily News]
"Candace Parker gave birth to a baby girl today at 11:29am. ... The baby girl weighed in at 7 pounds, 6 ounces and 20 inches in length." [TrueHoop]
The recent Candace Parker ESPN the mag cover story written by Allison Glock has become a hot topic for the ornery scribes at SportsJournalists.com due to the story's breast-heavy lede paragraph.
I don't want to tell the WNBA how to run their offseason training programs, but Canadce Parker might want to think about cutting back on the carbs. [BlackSportsOnline]
Candace Parker took home the
WNBA MVP award
on Friday, making her the first player to win MVP and Rookie of the Year in the same season. Add that to a list of credits that include College Player of the Year, a national college championship, and an Olympic gold medal. I'd say she's doing alright. Unfortunately the…
Sadly, last night's brawl between the Los Angeles Sparks and the Detroit Shock will probably be the only storyline that puts the WNBA above the fold for the rest of the regular season. As far as sports melees go, it was monumental; it involved two of the leagues major stars (Candace Parker, Lisa Leslie) and,…
Candace Parker's WNBA debut went about as well as anyone could have hoped. The Tennessee product led her Los Angeles Sparks to a 99-94 win over the Phoenix Mercury, the league's defending champions. Parker scored 34 points, including some big baskets down the stretch, while amassing 12 rebounds and eight assists. Lisa…