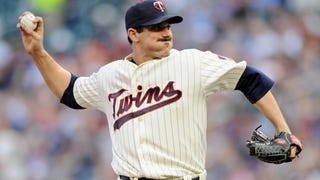 That's according to Ken Rosenthal, whose MLB sources told him the injury would keep the right-hander out for six to eight weeks. Then again, it might be much longer. Consider: Pavano is 37, he hasn't pitched since June 1 because of shoulder trouble, and he's still a free agent.
A high school classmate of Twins pitcher Carl Pavano is under investigation for allegedly demanding money from Pavano's family in exchange for not going public with his story—that he and Pavano supposedly had a three-year "emotional and physical" relationship two decades ago. Christian Bedard, of Southington, Conn.,…
You know, we love sports. (News, we know.) But you know what would make us love sports more? If more players were armed.