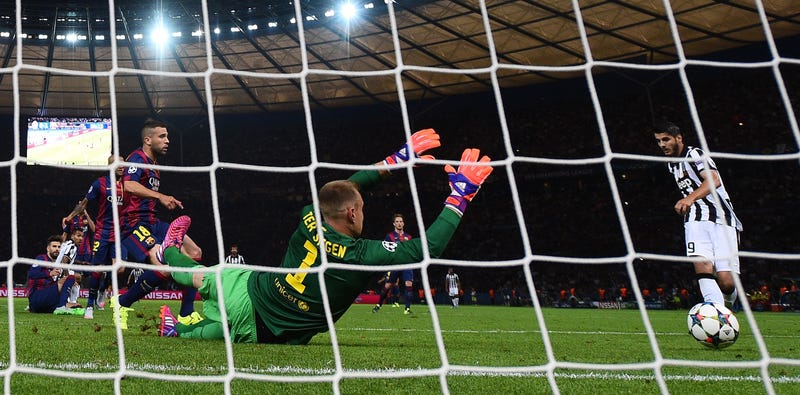 Barcelona controlled the opening minutes of the second half and had a few gilt-edged chances, but weren't able to bury them. Juventus took advantage of Barcelona's profligacy to draw the game even, when Álvaro Morata put home a rebound off of Carlos Tevez's shot. It should be a cracking final 30 minutes.
In Rome, Barca fans soaked in the victory at the Trevi Fountain and the police were on-hand in riot gear to make sure that if these two ecstatic young women started to kiss each other or disrobe, they'd be safe from bullets and billy clubs. (Courtesy WSJ's Awesomeness)
We've all been there—just be glad a professional photographer wasn't around to capture your lowest moment as a sports fan. (Caption: Disappointment was clear on the faces of Manchester United fans during the final minutes of the team's game against Barcelona Wednesday.) [Photo: Alessia Pierdomenico/Reuters/Wall Street…
I think I can say without hyperbole that for soccer nuts, today is like Christmas, Fourth of July, and the Super Bowl all rolled into one—only 100 million times bigger. It's the UEFA Champions League Final Day ... and you stupid Yanks are stuck at work!