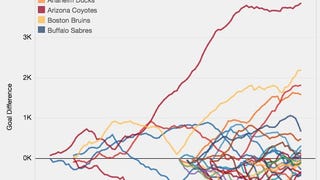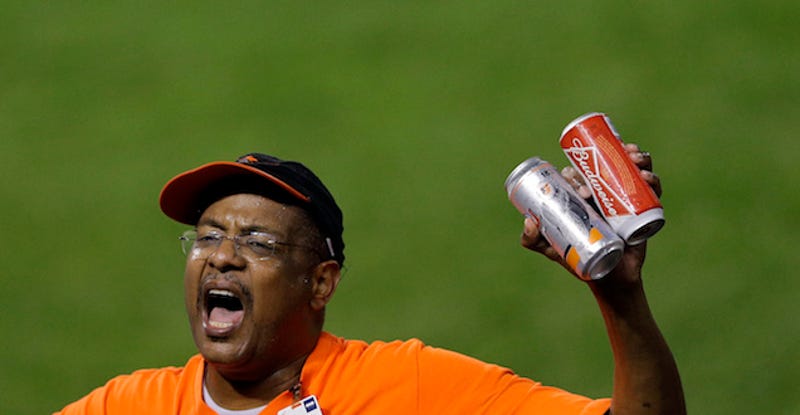 VinePair charted the best beer prices from all 30 MLB teams. Unsurprisingly, Fenway Park bleeds their patrons dry when it comes to selling beers. Leeches.
A lot of what we talk about when we compare different soccer leagues, from arguing which one's the best to which one's the deepest and even which plays the most attractive style, comes down to how much money is spent on players. In that sense, this Sportsmail chart listing the average salaries of players in 34 leagues…
The treemap chart above—part of the Pantheon project out of MIT Media lab—shows the birth countries of "globally known" sportspeople from 4,000 BC to 2010, i.e. sportspeople who are listed in the Wikipedias of at least 25 different languages. The U.S. and the U.K. come out on top, having produced 168 and 167 such…
Over at Sports on Earth, Aaron Gordon watched two NFL games called by each announcing crew in an attempt to quantify the best and worst broadcasters in the business. There were few surprises.
You may want to wait a bit before checking out Phil Roth's wonderful little tool that allows you to explore baseball teams' payrolls, because you'll be there a while.
A few years back, baseball writer and SABR member Mark Armour tracked the integration of baseball from 1947 to 1986, the 40 seasons after Jackie Robinson broke the color barrier. Why 1986? That year would begin a precipitous decline in the number of African Americans, to less than half the high-water mark—and the…
Chart via the appropriately named It's About The Money, which has been tracking the value of the Yankees disabled list since before the season began. With 12 million dollar man Kevin Youkilis on the DL with a back sprain, the total now sits at $94.6 million—or just above the MLB median.
SeatCrunch has come up with a whole mess of ways to break down and chart all the fines handed out by the NBA over the last 10 seasons. It's fascinating.
The above image is just a tiny portion—the cat teams—of the universe of NCAA mascots. Of nearly 1,300 schools in Divisions I, II, and III, there are bound to be some repeats. But now that someone has gone to the trouble of putting every single one on a poster and breaking them down by team name, it's time to be…
Unlike last year, LeBron James dominated the 2012 playoffs like the best basketball player in the world. We asked Kirk Goldsberry, of the indispensable CourtVision, what was different about James's postseason play this time around.
Why do you root for the team you root for? It sounds like a simple question, but actually think on it for a moment. The received wisdom is that when we choose our sports allegiances, we're too young to weigh things like history and future success in our decision. That's why so many of us are trapped in loveless sports…
Our pals at Flip Flop Fly Ball have charted the evolution of Ron Artest's jersey number, which is currently exiting its baroque phase. His next uniform will pay homage to the number of voices in his head. Click to enlarge. [FlipFlopFlyBall]