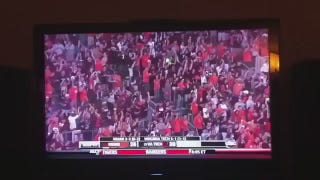 The highlight shows Derrek Lee bouncing out harmlessly to end the inning, but Andrew McCutchen had belted a two-run homer on the previous at-bat to tie the game at 4 in the seventh. Golly, Carpenter's reaction is a heckuva lot worse than what Jaws said during Monday Night Football, even if it was uttered in a moment…
Last night's Cardinals 5-0 victory over the Tigers to take a 2-1 lead in the World Series was, we will confess, not exactly the type of game you'll remember 10 years from now. It was basically Chris Carpenter being completely filthy and a bunch of Tigers players being hit in the testicles and falling over themselves.
Sometimes we forget that sometimes, all you need, is a dominant No. 1 starter — even one who claims his favorite band is the Dave Matthews Band — and an opposing pitcher with bloodshot eyes who throws 100 mile-per-hour fastballs five feet to the left of an already-running third baseman.
We'd like to thank Joe Sports Fan for this photo of a true Cardinals superfan; this is exactly what we're wearing to the game tomorrow.