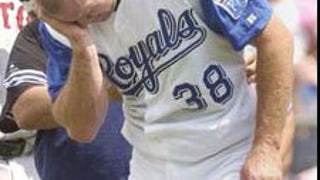 Well, it's been a fun weekend around these parts, with our sudden popularity on Kansas City talk radio and our father's concerned, confused "The man on the radio says you said Albert Pujols did steroids. Did you say that, Will?" (No, Dad, we didn't. What did we tell you about sports talk radio, Dad?)
OK, probably time for a Jason Grimsley update.
Everyone's guessing about who the blacked-out names in the Jason Grimsley report are, and it has been a fun parlor game so far. But we all knew eventually the names would get out. And we've been digging around ... and some sources have given us some names.