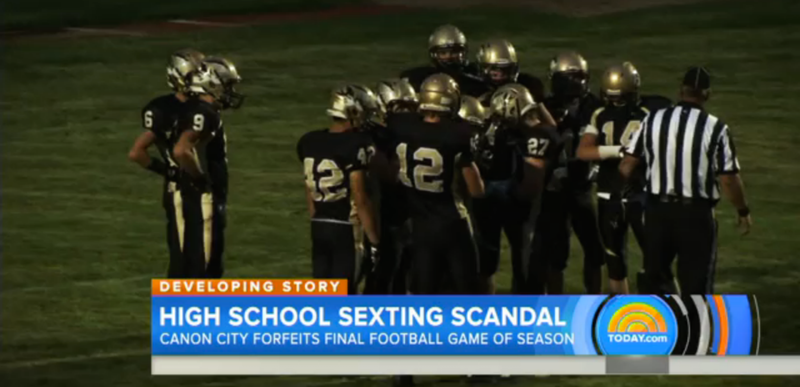 Cañon City High School is just like most other high schools in the country, in that it's full of libidinous teenagers and has a football team. Unfortunately for fans of the Cañon City Tigers, those two factors intersected and ultimately cost the football team its shot at a playoff spot, as a wave of suspensions in the…
Way back when, at a time when organized football for school kids was something of a rarity, LIFE's Alfred Eisenstaedt made some portraits of tough little guys playing in Colorado's Young America League in 1939. (See more Young America League photos here.)
An Estes Park, Colo., bar was recently visited by a curious bear who just wanted to say "What's up?" to the ladies and possibly make a few friends. You know, the usual stuff. Despite arriving in style at 9:15 p.m. (that's when all the cool people arrive), the poor bear's nightlife experience left much to be desired.…
Last night it was very cold in Colorado, and there also may have been some precipitation. Despite the inclement weather, Costa Rica played its World Cup qualifier against the U.S. Men's National Team, and lost (fair and square) 1-0. For some reason, they are piqued. From Reuters:
After 99.75 miles and more than 16 hours of running, Thomas Lorblanchet comes striding slowly down 6th Street in Leadville, Colo. It's almost 9 on an August night, and as he crests a small hill, his way is lit only by his headlamp and the glowing light from the one-story houses that line the street. His strides are…
It was with no small degree of concern that Deadspin noted the lack of a Sign of the Apocalypse in this week's Sports Illustrated. Until August, the magazine had been chronicling the demise of Western civilization via sports news of the weird at least as far back as 1993, when it noted that "David Carradine, years…
Got an image you'd like to see in here first thing in the morning? Send it to tips@deadspin.com. Subject: Morning crap.
We apologize in advance for the analogy, but it's clear that Major League Baseball has gone into the beanball wars with no exit strategy whatsoever. Things came to a head on Sunday with five ejections in the Rockies-Giants game — including both managers — after four beanings. Giants pitching coach Dave Righetti was…