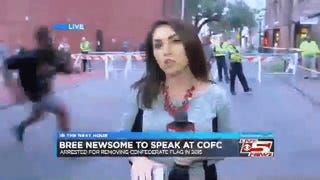 It's been a while since I watched rasslin, but that looks like a textbook Stinger Splash by a counter-protestor to break through the tape and snatch down a Confederate battle flag being waved by members of South Carolina Secessionist Party. The whole thing was caught on live TV, and it's very satisfying.
NASCAR effectively revised its prior stance on the Confederate flag today, where the series wouldn't allow the stars and bars to fly in any official capacity, but would permit fans to fly it as they please. Now the series' tracks have banded together in asking fans not to fly it at all.
NASCAR released a statement of support today for South Carolina Governor Nikki Haley's call to remove the Confederate flag from the state capitol this summer. NASCAR, surprisingly, has long had a ban in place against the flag on anything officially related to the racing series.

Saints tight end Benjamin Watson is particularly engaged with current events—his thoughts after the decision not to bring charges in the shooting death of Michael Brown still stand up, and managed to find support from all sides. Today, he wrote about the swelling movement to take down the Confederate battle flag from…