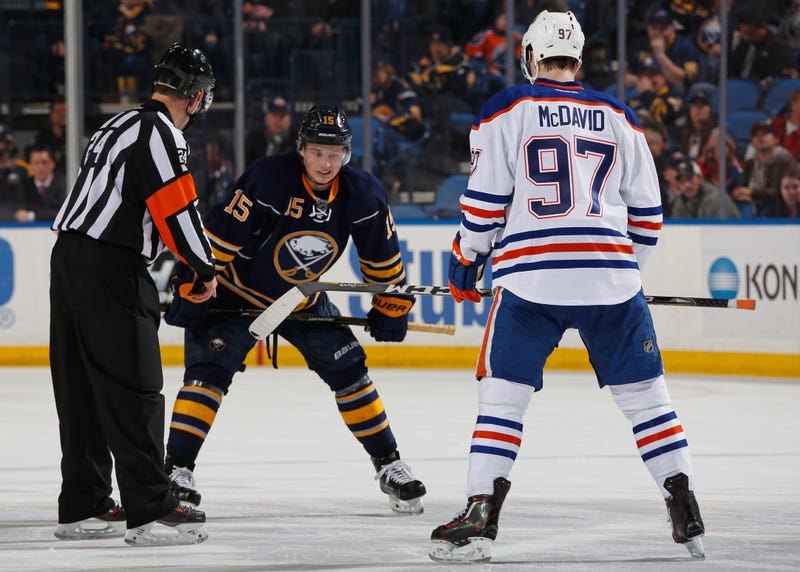 Everyone on both teams was trying to downplay Connor McDavid vs. Jack Eichel, the No. 1 pick vs. the No. 2 pick, two potentially generational talents who have so far been every bit as good as advertised. They were lying to themselves, and it only took 22 seconds from puck drop for them to be proved wrong.
It would have been understandable if Connor McDavid was rusty tonight, seeing as he hasn't played a game of hockey in three months after breaking his collarbone. Instead he scored this stunner by dangling past Justin Falk and Jack Johnson, and then deking goalie Joonas Korpisalo out of his damn skates. McDavid added a…
Oilers center Connor McDavid—the number one overall pick in the 2015 NHL draft—suffered what the team termed an "upper-body" injury Tuesday night, and will be out "long-term," according to coach Todd McClellan. McDavid suffered the injury late in the second period, after he took an off-balance shot and slid into the…
In Wednesday night's game against the Red Wings, first overall pick Connor McDavid displayed impressive patience as he toyed with Detroit goalie Petr Mrazek before scoring. McDavid has six points in seven games; Jack Eichel has two through six.
Above is video of Sam Gagner's overtime goal to put the Coyotes over the Sabres. The game was in Buffalo, yet the crowd cheered the Arizona winner. Cheered loudly, and spontaneously, to the point where if you're not a hockey fan, you might wonder if Coyotes fans travel particularly well. (They do not. And if Yotes…
Connor McDavid, the world's top hockey prospect, injured his hand in a fight last night. The OHL's leading scorer, who "doesn't fight very often," appeared to hurt himself (at about the 30-second mark of the video) when one of his punches struck the glass.
There's a video going around this morning of an unbelievable OHL goal, the Erie center completely undressing an overmatched defender and a hapless goalie. The video is blurry, the audio distant and muffled, as if this were some black-market footage we aren't supposed to see. That's fitting, because Connor McDavid, at…