Judging from the way this amateur goalie's wobbling around, it doesn't seem to be solely due to the ice. The video's apparently from an amateur league game in the Czech Republic. Thankfully, no one will check this goalie into the boards, because he'll probably piss himself.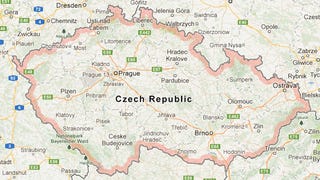 Flyers winger Wayne Simmonds recently signed with a team in the Czech Republic to try and ride out the lockout. It is exciting for Czech fans to see real life NHLers, but also scary for some of them to see a black person. So a sizable portion of the crowd in Chomutov did not take it well when Simmonds, playing for…
David Hirshey will write regularly during the World Cup.
It's always important to have villains in international sports — because what's global goodwill except for an excuse for everybody to hold hands and smell of patchouli? — and last Saturday, Italy played the role right good. Now, of course, We Are All Italians. The United States needs to win its game, then have Italy…
One of the funnier bits "The Daily Show" has done of late was to run training video of late terrorist leader Abu Musab al-Zarqawi set to the "American Idol" song "Bad Day," which was always played when a contestant was voted off the show. It somehow summed up so many conflicted and complicated worldviews in about 10…
All right! GO AMERICA! The one World Cup moment the majority of Americans will actually be paying attention is upon us: The red, white and blue is going soccering!
The World Cup is ominously close! So that you aren't caught offside (they have that in soccer, right?), we're previewing all the participants, bringing you Four Things You Don't Know About Them. If you have a tidbit, send it along to tips@Deadspin.com. Today: Czech Republic! And for World Cup previews that are even…