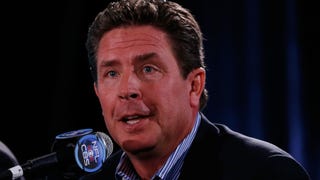 Yesterday, word made its way out that Dan Marino would join a suit against the NFL over the effects of brain trauma suffered during his career. Today, word from the Sun Sentinel is, Whoops, my bad guys.
Dan Marino, like all American adults with a driver's license and no felony convictions, occasionally gets called for jury duty. He dutifully showed up at Broward County Courthouse in Fort Lauderdale on Wednesday, ready to take on his civic obligations. That's when something happened that probably doesn't happen to…
It's been a week since the Super Bowl, but Saturday Night Live is a weekly show, unfortunately airing the night before Super Bowl Sunday, so they just got around to pointing out the uselessness of studio shows. Keenan Thompson as James Brown guides the skit and has some fun when, at his wit's end, he resorts to…
Today's New York Post features a story about former NFL quarterback and current CBS football analyst Dan Marino impregnating a former CBS Sports production assistant. Marino, who has been a CBS pregame analyst since 2003, had an affair with Donna Savattere at some point in 2004, which led to Savattere giving birth to…
Yeah. We had the same reaction. All we know about this photo is that it was taken in April 1994. There's no unseeing it now, so you know you're going to click here to get the full effect. Just so much going on in this image. Like, what's with those heat lamps?
Marino. Esiason. Sharpe. Cowher. Football legends all. They managed to compile a mathematically improbable record picking games last week. I think Paul the Octopus could do better, and he's dead. [CBS Sports, h/t Nathan] UPDATE:
Also Dan Marino and Lou Holtz, but here's the money quote: "I'm getting ready to start killing some more people. Beyonce, Jay-Z, Jerome Bettis and Tune-up Man are the first 4 people I'm getting ready to kill." [Detroit News]
We'd never seen this old video, of Dan Marino, back in the Len Dawson "Inside The NFL" days, making a verbal flub and kind of getting a little pissy about it. (When you've scared Len Dawson, you've scared the world.) It's from 2000, when Marino was first trying out as a broadcaster — and was, and is, better than…
If you're not familiar with PostSecret.com, it's a website that invites the general public to send in their deepest, darkest secrets on a postcard, and then they publish them on their website. It's a popular website. There's a book in publication, and a lot of people, I suppose, find it therapeuatic and comforting to…
We don't know why, but we guess we kind of thought that Web sites representing companies that were obviously proven fraudulent and felonius would, as a matter of courtesy, either disgorge themselves from the Interweb, or, at the very least, stop updating.
An enterprising young Atlanta Braves blogger, truly a guy after our own hearts, had become exhausted with screaming at his television set every time he turned on ESPN. As a way to rage against the machine, he set up The Road From Bristol, a 64-person bracket meant to resolve, once and for all, who the most loathsome…