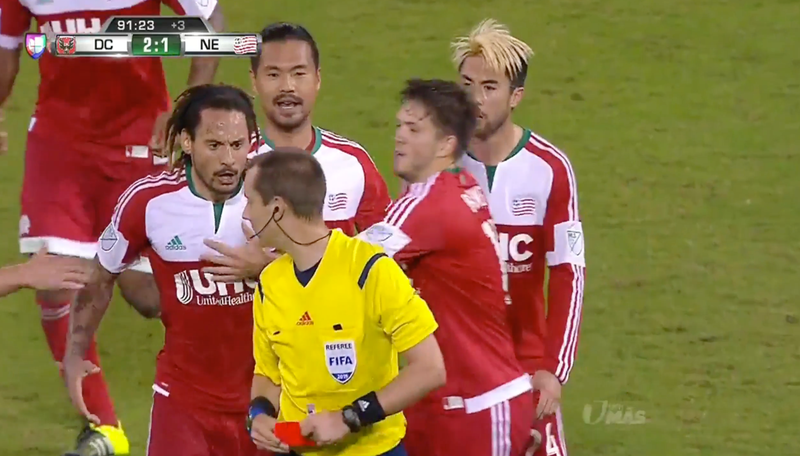 Jermaine Jones, German-born USMNTer currently in MLS to get some checks and play whatever position he wants, has a history of getting heated and falling ass first into some stupid red cards. Back at Schalke, he got suspended for two months for stomping on Marco Reus's foot.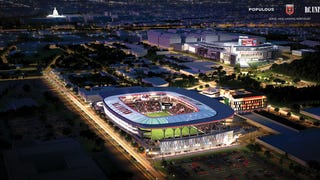 Eddie Gaven retired today, and the math doesn't seem right. He's only 27 years old, but already an 11-year veteran of MLS. That's what happens when you get drafted at age 16, as Gaven was by the MetroStars in 2003. The wunderkind never quite lived up to the hype, but he proved to be a versatile, workmanlike presence…
Lesson for NBC, the new holder of the American rights to the Premier League: Don't cut away from soccer during the run of play, like you did here, and miss a goal like the one D.C. United scored. (Transmission error or not, woof.) [NBC Sports]
The weather had already shafted DC United. The higher seed, they lost homefield advantage when MLS switched the legs of their home-and-home with the Red Bulls because the New York area was still cleaning up after Hurricane Sandy. It wasn't fair, and United fans were pissed, but it's hard to see that there was any…
Well, planking just won't die. We thought it had, over the weekend. But maybe soccer fans based in DC don't watch morning news in Dallas.
I've been dispatched by the other 90 percent of the Deadspin staff to share with you these photos of Charlie Davies, the starting striker for D.C. United who suffered bleeding in the brain, a ruptured bladder, a broken tibia, femur, and elbow, and multiple facial fractures in a car accident in October 2009. He's…
I don't know if I can take another second of NFL Draft coverage. No matter what I look at now, a tree, a drunken hobo, a bag of cocaine, I see a scrolling "team needs" bar underneath it, and I hear Mel Kiper telling me about its ability to explode. So we leave you today with something, hopefully, kind of nice.
The Times Online is reporting this morning that UK soccer club Chelsea is this close to signing 16-year-old soccer prodigy Freddy Adu away from DC United and the MLS. The paper reports that Adu plans to be in London by the beginning of the summer; he hopes it will help him make the national team by the World Cup.