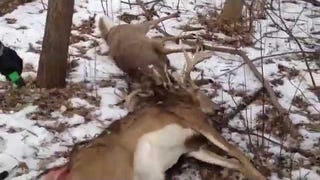 Sunday morning. Minnesota. People woke up to a strange sight: two white-tail bucks, their antlers hopelessly locked after a fight, one of them already dead with a broken neck. The other one was sure to be too, if he couldn't be freed—a coyote was circling the scene. So they called the cops, who immediately formulated…
Mike Simundson, a photographer for Keloland TV, captured this deer fight in a Sioux Falls, S.D., park last week. The technique: slap the shit out of each other and slowly back your opponent into a set of bleacher seats. You'll never lose another deer fight again.
The action had to be halted at Meadows Racetrack in western Pennsylvania last Wednesday, as three lost deer somehow found their way onto the track. They poked around the final turn before bolting the wrong way around the track. Then, on the backstretch, they stopped and turned around. It went like this for a while.