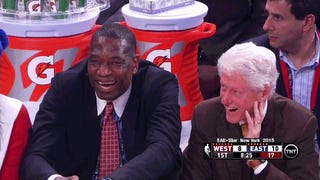 Today is a very sad day. Dikembe Mutombo went on Highly Questionable and destroyed one of sports' greatest urban legends, emphatically denying that he ever walked into a club and yelled,"Who wants to sex Mutombo?"
Nuggets mascot Rocky (last seen here unconscious) and Dikembe Mutombo (last seen here caught up in a gold scheme) teamed up for a bit of fun tonight in Denver during the team's recognition of Mutombo's career in the Mile High City.
Dikembe Mutombo's nephew Harouna nearly led his Western Carolina team to the NCAA tournament last night, only to lose in double overtime. It was an improbable run, and it gave us this Mutombian reaction that can only be described as pure gold.
Earlier this year, the Houston Chronicle reported that Kase Lawal, a rich Houston businessman appointed by Barack Obama to a FTC committee, had become enmeshed in an illicit scheme to smuggle several tons of gold out of the Democratic Republic of the Congo in 2011. What caught the eye wasn't so much the…
After last night's knee injury, Dikembe Mutombo says his career of shot-blocking and finger-wagging has come to a close:" For me, basketball is over," he said. One of the NBA's nicest guys. [SI]
You know, it's a shame. The guy devotes his a large portion of his private life to helping other people, trying to make the world a better place, assisting his fellow man through the treacherous terrain of this planet. He is honored in the most public possible way on the world's grandest stage ... and all anyone is…