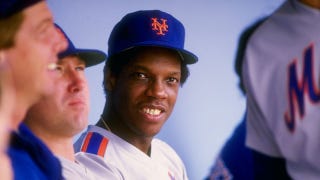 It's time for some uplifting news from the good folks at E:60! It's a rare occasion when "club in Long Island" is not the most soul-wrenching part of a story, but this is one of those times.
Giving Doc Gooden bad advice is like buying the Pope a crucifix: he's received more than his fair share over the years, and probably doesn't need any more. So we're glad he ignored Dykstra's efforts to bust him out of "Celebrity Rehab." [CBS]
For all you doubters out there, it's true: Dwight "Doc" Gooden, the former Mets pitcher and Cy Young Winner who is headed to Celebrity Rehab, is officially on Twitter. His account, @DocGooden16, has not yet received a crucial "verified" check, but after today, we think Twitter should replace that mark with a thumbnail…
Apparently Felix Unger is now in charge of stadium operations at CitiField. Hey, it's a brand new stadium! Don't write on the walls! Even if you've won a Cy Young Award and your name is Doc Gooden.