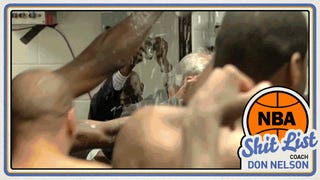 A celebration of the NBA's most infuriating players, both past and present. Read other NBA Shit List entries here.
Dirk Nowitzki says he once walked in on Nellie and his dog Lucky in the hot tub. If he had decided to join them, it would have looked like every German porno ever. [Sports Radio Interviews]
Stephen Jackson doesn't want to be the captain of the Warriors anymore because all you do is "talk to the refs." That and he hates his coach and is demanding a trade. How will they survive without that leadership? [SFChronicle]
Nearly 22 years after his 16-foot baseline jumper gave Indiana the national title in 1987, Keith Smart ruminates on how how that moment changed his life, and where he's going from here.
As George Costanza famously noted, it's important to go out on a high note. If you tell a joke at a party and get a huge laugh, you excuse yourself and quit while you're ahead. Apparently subscribing to this philosophy, Warriors coach Don Nelson — having vanquished the invincible Mavericks with a team that wasn't even…
Taking a look at Monday's action in the National Basketball Association:

Whew. Don Nelson really was there. Thank God. We honestly feared our brain might have gone bye-bye there for a moment.
To answer your question, yes, we did watch the Oscars last night, and since we think Crash is aggressively awful, we weren't going to bring it up today.