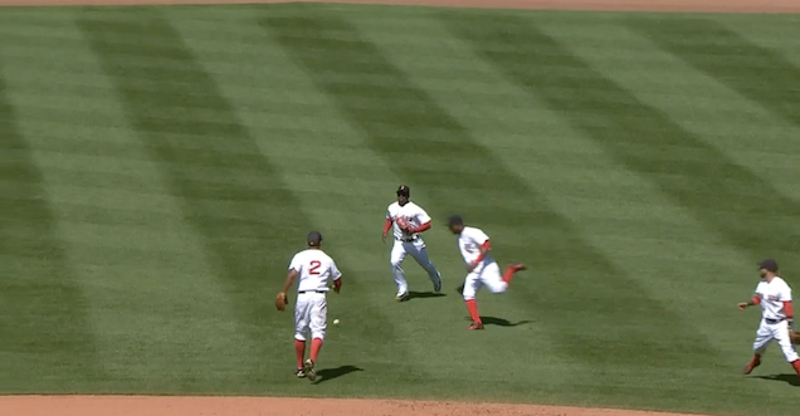 The last-place Red Sox don't need outside forces to help them lose, because they can handle it all on their own, but the sun ruined their composure anyway in Sunday's game against the Blue Jays. Dustin Pedroia lost a pop fly in the fourth, and four Red Sox combined for another botched out in the fifth.
Dustin Pedroia missed the 2009 All-Star Game to be with his wife, who was about to give birth to their first child. Tonight, Bobby Valentine had to abruptly pull Pedroia from the game, telling him mid-inning that Kelli had gone into labor and that he had to vamoose immediately. Alas, shortly thereafter, Valentine set…
The Red Sox stink. This we know. They are 57-59, fourth place, the whole thing. Why they stink is not quite as clear. Cody Ross and David Ortiz are the only position players who have hit especially well, and no one (save, uh, Scott Achison) has pitched well. Does anybody know where Dustin Pedroia and Adrian Gonzalez…
The Red Sox sent Kevin Youkilis packing yesterday, shipping the popular third baseman (and more than $5 million) to the White Sox for Brent Lillibridge and pitcher Zach Stewart. The news came as a shock to Boston second baseman Dustin Pedroia, who spent several innings with his face stuck in a state of surprise.
The Red Sox lost a frustrating game yesterday, highlighted by a questionable strike zone, a mid-conversion Daniel Bard looking great but clearly tiring, and the manager crossing swords with the team's two most beloved players. So today the Herald leads not with a game report, but a rush to be the first paper in town…
Every morning, the fine folks at Sports Radio Interviews sift through the a.m. drive-time chatter to bring you the best interviews with coaches, players, and personalities across the sports landscape. Today: Regrets, Pryor's had a few.
Got an image you'd like to see in here first thing in the morning? Send it to tips@deadspin.com. Subject: Morning crap
Maybe I'm still a little irked with Boston after last night's Celtics win, but I think a picture of Dustin Pedroia getting pegged in the nuts would bring a smile to my face any day.
In February, on assignment for Boston Magazine, I sat down with Dustin Pedroia in Fort Myers, Fla., and we spoke for an hour in what may well be the last interesting interview Pedroia ever gives.
Dustin Pedroia's older brother has been charged with child molestation leading to disbelief within the Woodland, California community where the Pedroia's are like royalty (according to fellow resident Tom Ziller). [The Sporting Blog]
Dustin Pedroia's stat lines this season have no doubt caught the eyes of fantasy baseball geeks, but his road to approach teammates like Big Papi in superstar status has been a bit tougher. Of course, everything's tougher when you're only five foot nothing. A profile in today's Boston Globe tells tales of diminutive…