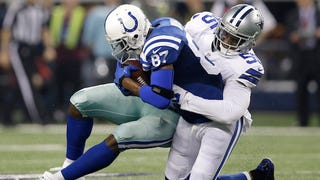 Never mind that Rolando McClain had "concussion-like symptoms" last week, and—judging by his exit from today's game with a head injury—probably shouldn't have touched the field against the Packers today. Ed Werder wants you to know how frustrating it is for the Cowboys' training staff.
ESPN's Ed Werder had a thought (which he later deleted) regarding the two cops killed in Brooklyn Saturday. It must have sounded better in his head, because on Twitter, it came across as smarm from a penis with a silly mustache. Protest what, Ed?
Being a Deadspin blogger means looking at a lot of really nasty stuff—horrifying snake bites, catastrophic injuries, gross dicks—but for some reason, nothing has ever grossed me out as much as Ed Werder's spittle just did. I don't know how to explain it, but I am shaken.
One of the many tragedies of Brett Favre's non-unretirement is that Ed Werder and Chris Mortensen, ESPN's Woodward and Bernstein of the small-bore, will no longer be feverishly working their anonymous sources for the world's most trivial Favre scoops.
"How do you deal with this kind of stupidity? I've got my ideas, but that's another story. A friend of mine is a longtime psych-ward nurse. He described it as a classic case of "narcissist/sociopath." I don't know what that means, so I just call Owens an "idiot." It seems to work. [Star-Telegram.com]
Not surprisingly, Stephen A. Smith was summoned for the special ESPN therapy session with Terrell Owens. T.O. continues to insist that Ed Werder made up his story, but amazingly, SAS chose not to defend his colleague. (Smith even used "allegedly" to talk about the incident.)
"I was shocked," Werder said. "I've been covering the Cowboys since 1989 and I have never been put in a position like that. It was a first." When the two saw each other in the post-game news conference, Werder reports, "He called me a name but it wasn't a profanity." [DMN's Sports Meda Blog]
Even though Terrell Owens went out of his way to single out the supposedly "made up" reporting of ESPN's Cowboy specialist Ed Werder, the WWL is sticking by their mustachioed menace.