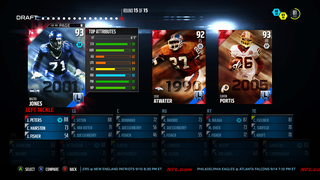 Ten years ago, I wrote one of the most wrongheaded articles of my career. In a review of 2005's Blitz: The League for Slate, I predicted that Madden NFL's then-new monopoly on the National Football League's license for video game football would restore variety to the virtual gridiron. Surely the single-minded pursuit…
It is one of the oft-old tales in the three-decade (!) history of Madden NFL: When Trip Hawkins, the founder of Electronic Arts, approached John Madden, the Hall of Fame coach and broadcaster, about collaborating on a new version of video game football, Madden stipulated that any game with his name on it would include…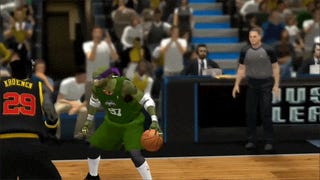 Casey Jones replaced his hockey stick with a pair of basketball shoes for this one, to join the Turtles and play basketball in this NBA 2K14 mod by MkEliteWorksX.
EA Sports will not publish any college football video game next year, the label said moments ago, citing ongoing litigation brought by current and former college players that threatens to change how all of big-time college sports does business.
A jury today found that Electronic Arts used code and features developed by the designer of the first John Madden Football throughout Madden games published into the mid-1990s without crediting or paying him royalties, and required EA to pay damages that could start at $11 million and potentially reach much higher.
ESPN FC had a neat piece this week on the ties between soccer video games and soccer fandom, and the idea that even in the days of satellite television, nothing's done more to grow the sport in the United States than gaming. Here's the money quote, from social scientist Rich Luker:
Madden NFL 12 will present concussions realistically - as realistically as removing a player from the game, forbidding his return, and delivering commentary that highlights the seriousness of the injury. The game will not include suspensions for players who dole them out. [
Kotaku
]
A federal judge on Monday threw out a former college quarterback's claim against EA Sports, regarding the use of his likeness in past versions of NCAA Football. While the ruling clears Electronic Arts in a legal sense, Samuel Keller's claims… [
Kotaku
]
After the disastrous, last minute cancellation of NBA Elite 11, Electronic Arts is keeping its basketball sim video game on the bench for another year, saying that it won't ship a new entry in the NBA Live/NBA Elite franchise until… [
Kotaku
]