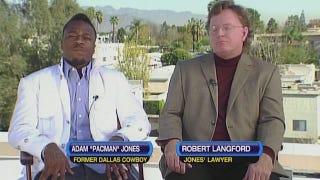 If you've ever wondered why quarterbacks splurge on lavish gifts for their offensive lines, may we present Lomas Brown telling ESPN Radio that he let the Packers blow up his quarterback, Scott Mitchell, in a 1994 game. At the time, Mitchell was playing like, well, Scott Mitchell on a bad day (5-for-15 for 63 yards…
Yesterday, we introduced you to ESPN Radio's wildly unpopular new iPhone app. People who had already paid $2.99 for the app over the last two-and-a-half years are being asked to pay an extra $4.99 for a "new app"/crypto-update in order to keep listening to the feeds they already subscribe to.
The gang at 790 The Ticket in Miami, the Marlins' flagship station and an ESPN outpost, wanted to do something swell for Dave Van Horne, who is receiving the Baseball Hall of Fame's Ford C. Frick Award tomorrow. So they decided to put together a montage of congratulatory clips from other Hall of Fame broadcasters,…
Here is how we know ESPN hates people with cancer: if you want to donate money to The V Foundation, you're forced to hang out with the likes of Colin Cowherd and Mike & Mike.
Boston sports talk radio station the Sports Hub received so many obscene text messages from one phone, they red-flagged the number. The phone turned out to belong to a producer at rival - and ESPN Radio affiliate - WEEI. [Herald]
Like a lot of you, we were secretly rooting for Scott Van Pelt to end up with the ESPN Radio gig to replace Dan Patrick. Even though Van Pelt has had some questionable choices of guests during his occasional fill-ins, the guy's funny and affable enough on the radio, and anybody who quotes "Flight Of The Conchords" on…