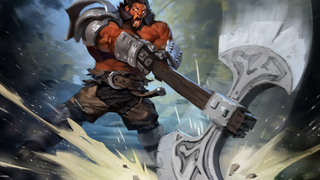 This weekend, ESPN2 aired a preview for the grand finals of Dota 2's The International, the 10 million-dollar tournament for the very popular video game. The move is kind of a big deal—arguably, it grants competitive gaming more mainstream legitimacy. But not everyone was happy to see Dota 2 on ESPN.
"We Could Be King," a documentary on newly merged and severely underfunded Philly public school MLK High's football season got a standing ovation at the Tribeca Film Festival last night. The film will show on ESPN2 this Saturday. In the meantime, you can watch the trailer here. [NewsWorks]
Well, ESPN2 technically. But yeah, this is happening on Monday:
Outside the Lines is supposed to be the safe haven from all the bullshit. Bob Ley likes to call the show the Switzerland of ESPN. It's the thinking man's sports program—Bristol's answer to NewsHour. Sonorous reporters intoning Serious News. An air of calm, cool reflection about the issues of the day. Even on Monday,…
Well, actually, the Rob Parker cornball comment became a big headache for the CEO of ESPN's parent company, Disney. At a Disney shareholders meeting yesterday, one guy representing a conservative group, the National Center for Public Policy Research, used Parker's comment to demonstrate that ESPN is totally in the…
On Thursday morning's First Take, Stephen A. Smith expressed his disbelief that Kobe Bryant would miss time with an injury by saying "nigga, please." This was not a thing he should have said on TV, yet he did. It was barely noticeable, but at least one person noticed, uploaded the video, and certain folks began…
Literally dozens of people came out to ASA Hall of Fame Stadium tonight in Oklahoma City to see the USA Futures defeat the USA National Team in a 38-37 win, decided on a tag out at the plate on the final play. However, the first two outs of the inning came when two players hit home runs, actual fair balls over the…

We are just six days away from the next undignified gallop toward hipdom attempt by ESPN2, ESPN Hollywood, a show about how athletes and celebrity mix. (Yep.) We'll focus more on the show later, but right now we're gonna talk about co-host Mario Lopez.