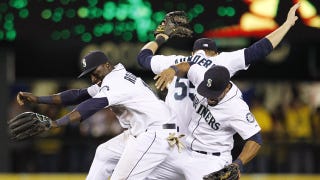 The guy who just beat everyone else in America at all the fantasy sports, again, is a computer science professor who is not so much into trades but who is really, really into spreadsheets. Clark Olson, the 2012 winner of ESPN's omnibus Uber Challenge fantasy game, again, tallied the high score across an Olympiad of…
A few months ago, we compiled a Fantasy Football Almanac of results from 1970 to 2011. Now we're ready to update the almanac for the 2012 season, with awards for the best players and some new data as well. Take a look, then add your comments, analyses, quibbles, and rants in the discussion below.
If you missed our NFC fantasy preview, you can find it right here. And now, it's time for the AFC portion of our annual Deadspin fantasy guide ... FLESH FOR FANTASYYYYYYYYY!!!
I used to plan my fantasy football drafts meticulously. I used to create spreadsheets with my own personal rankings of players, established only after poring over any number of inexplicably pricey preseason fantasy guides (Eight dollars, Street & Smith's? BLOW ME) and scouring numerous online mock drafts. I don't do…
Fantasy sports now account for "$800 million, or about 18%, of the $4.5 billion sports industry," and the "estimated 32 million of North Americans ages 12 and older" who participate are essentially subsidizing sportswriting! So, uh, please—keep doing what you're doing. [Co.Design]
As we've seen with our "Life Lessons" segment, some people take sports way too seriously. But none as serious as fantasy football players. Each week, we'll feature some of the whiniest, bitchiest, nastiest, most sociopathic emails from this group of very special people so you can point and laugh at them from the…
If you take fantasy sports seriously, you read the experts. Disclaimer: I am not an expert, but I will write about fantasy sports anyway. And if you want to win your leagues handily, I can't think of a better advisor than someone who only stays half aware of what's actually happening in sports. So whether you're just…
Now, we didn't read through all of this, but we're pretty sure Matthew Berry is saying he fucked the San Francisco 49ers.

Either huge fantasy sports Web site Rotoworld was hacked into around midnight last night ... or they're introducing a new category in fantasy baseball this year.