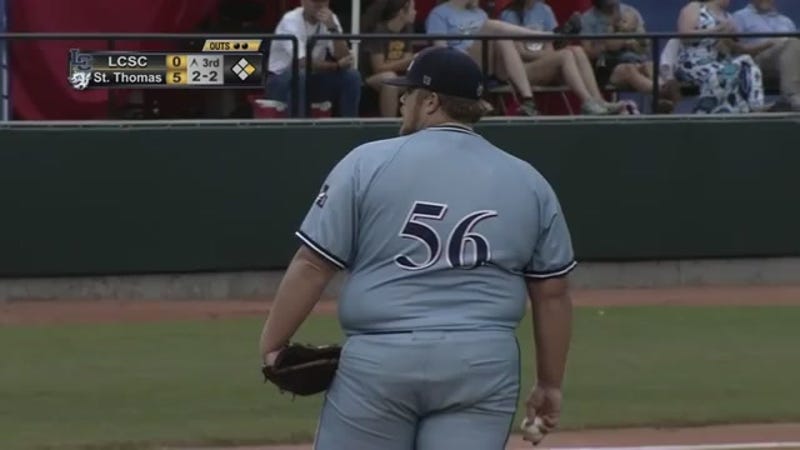 St. Thomas (Miami) pitcher Ben Ancheff got the whole Internet talking last night after starting in the Bobcats' NAIA World Series game in Idaho last night against Lewis-Clark State. But it wasn't his 5.40 ERA or his unimpressive 3-2 record that blew everybody's heads off; it was his girth. So much girth. Look at this…
Kent crushed Ohio 44-13 in Athens tonight, but the highlight for all who tuned in for #MACtion was this 61-yard fake punt by Nate Terhune, a 6'4" 265 lb. defensive lineman who played up-back on the punt team and made the most of his opportunity—hurdling a Bobcat return teamer en route to the end zone.
Got an image you'd like to see in here first thing in the morning? Send it to tips@deadspin.com. Subject: Morning crap.
Football fans have been marveling at the transformation of Titans' running back LenDale White, who has trimmed his previous bowling ball-like physique down to a svelte 228-pound Mack Truck. So how did he do it? By not eating worms, obviously.
Aging Brazilian legend Ronaldo went to the hospital for a broken wrist and had doctors throw a liposuction on the bill. How do you expect a guy to work out when he's busy playing all that soccer? [The Spoiler]