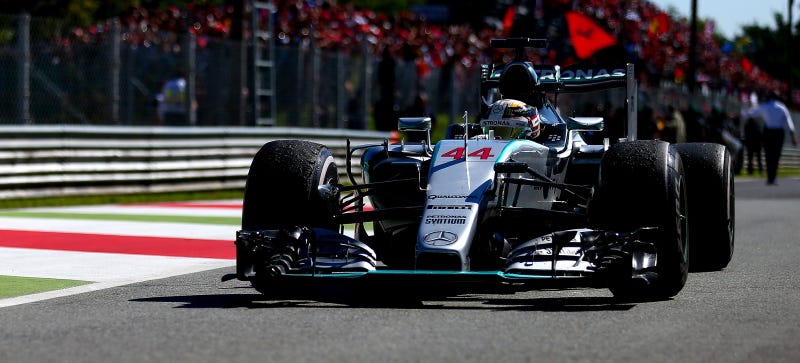 After tires popped at Spa, Formula One and Pirelli instituted limits on tire pressures. The minimum allowed on any car at Monza was 19.5 psi. To enforce this, an FIA delegate measured left rear tire pressures on the four front cars on the grid and found that both Mercedes' tires were below the minimum pressure.

Juventus midfielder Arturo Vidal is currently in his native Chile with the national team competing in the Copa América. On his way back from a casino with his wife on his off-day, Vidal was involved in a two-car accident and arrested on suspicion of drunk driving.
Holy shit! This Ferrari 458 Italia from JMW Motorsport burned like a... like a... like a Ferrari.
UPS opened up a can of worms when they decided to do a photo mosaic for their logo. The idea was to use fans' Facebook photos as the background. Of course, someone had Dick Butt (which is a doodle of exactly what it sounds like) as their photo. Now Dick Butt will take a glorious ride aboard the Ferrari SF15-T. …
You know that scene in Goodfellas after the airport heist where Robert DeNiro tells his guys not to buy anything with the money, lest they be discovered, and then one of them runs out and buys a new pink Cadillac for his wife? That just happened in England, except with a Ferrari. And the criminal in question is a…
Today is Michael Schumacher's 46th birthday. It has to be a better birthday than last year for the seven-time Formula One world champion and his family; he spent that one still in a coma in the wake of his terrible winter skiing accident. As he recovers, let's pause to remember one of the greatest moments of his…
I sometimes like to say that Ferrari is the Kanye West of automakers: immensely talented, but also burdened with an ego so massive it has its own gravitational pull. You know who else is worthy of that comparison? Michael Jordan. That's why these new $200 Ferrari-themed Air Jordans make a ton of sense.
Holding out hope against hope, the families of the missing passengers of Malaysia Airlines Flight 370 are struggling every day to hear new information. Just trying to be optimistic is itself a daily battle. And now they've reportedly been kicked out of their hotel to make way for the Ferrari Formula One team.
Someone took a bat to Richie Incognito's Ferrari in front of his Arizona home, per TMZ, and though no lights look to be smashed in the photos, the hood and grill took some damage. There are also shirts on the car, for some reason.