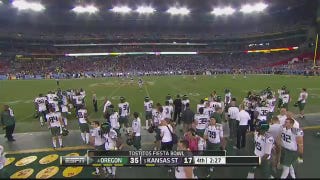 According to The Oregonian's John Canzano, last week's Fiesta Bowl featured a real-life Rudy moment. Coming into the game, Oregon's Dane Ebanez had never made a bowl-game appearance, despite playing at the school for four years and being named scout team player of the year in successive seasons.
Even with Oregon's offense out on the field tonight in Glendale, it sounds like there's been nonstop excitement in the stands as well. Arizona NewsNet has just passed along word that the women's restroom in one part of the stadium had to be evacuated for a medical emergency:
If you believe the reports, one of the most captivating eras in recent college football history ends tonight. Chip Kelly will coach Oregon against Kansas State in the Fiesta Bowl, and then he'll interview for NFL head-coaching jobs (chats with Philly, Cleveland, and Buffalo are scheduled so far), and then, presumably,…
So I guess anyone who thought the Fiesta Bowl was a giant made-to-order bowl of Buckeye Soup (ahem) had another thing coming. Hey, when you're right 52% of the time ...
Got an image you'd like to see in here first thing in the morning? Send it to tips@deadspin.com. Subject: Morning crap.
With the NCAA tournament gone, and CBS putting Billy Packer back in his cryogenic chamber for 11 months, I thought we were entitled to some commentators with more of a sense of joy.
Thoughts while watching about three hundred shots of Brady Quinn's sister, Laura, during the Fiesta Bowl last night:



1. We kind of miss that TV show, Xena, Warrior Princess.

2. We thought A.J. Hawk was some sort of famous skateboarder. Apparently we're confused.

3. Brent Musberger is still alive? Wow.



You…