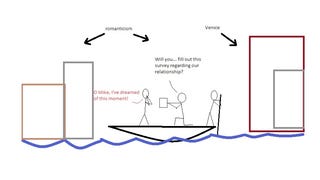 Ladies, Mike Stolar is on the market. He's the (formerly anonymous) guy who asks some dates to fill out a survey. (An unsatisfied date passed the survey along to us last week, and we shared it, with a little backstory.)
Last month, we brought you a finance guy's way-too-detailed spreadsheet of the ladies he met on Match.com. A reader who enjoyed that post then passed along this survey she received from a man she briefly dated in Philadelphia.
Let's call this guy, oh, "Dave." Dave is a financial services employee in New York. Dave goes on Match.com, and meets women, and sometimes goes on dates with them. Then Dave goes home and enters all sorts of information into an Excel sheet, to keep track of everyone.
The latest entry in our overwrought emails series comes from the world of high finance... rec-league basketball. A vice president at J.P. Morgan in London is very enthusiastic about the upcoming season. But he's not gonna stand for his players flailing around on the court, like Mike D'Antoni might. No, he wants to…
The financial situation in Europe is so screwed up that soccer players are being used as collateral. Bankia, a troubled seven-month-old Spanish banking group, is trying to shore up capital by going public and getting a big loan from the European Central Bank, the EU's equivalent of the Federal Reserve. But the ECB…