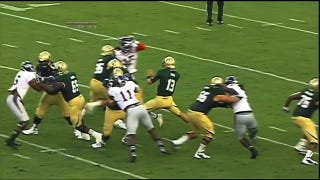 Look, USF is bad. But so is FAU! We can't think of any better example of Bulls futility than this play early in tonight's matchup between the two teams in Tampa, when the Owls score a touchdown thanks to USF forcing a fumble against itself. The bus, it has a broken axle.
George Mason had a miracle tourney run six seasons ago, didn't receive a single vote in this week's AP Top 25, and are ranked 63rd in KenPom's ratings. Florida Atlantic students apparently didn't get the memo, and stormed the court after their overtime win over the Patriots this weekend. Because you may never get…
Florida Atlantic and Western Kentucky were mired in a rain delay of indeterminate length and decided to get a little silly rather than adjust their jocks and spit sun-flower seeds like those layabout MLBers. H/T, like, 15 of you. [YouTube]
Got an image you'd like to see in here first thing in the morning? Send it to tips@deadspin.com. Subject: Morning crap.
Florida Atlantic coach Mike Jarvis gets four straight technicals, plus a police escort from the building, which is always fun. At least porn star Mary Carey seemed to have a good time!
Now, before you click "play," I have to explain the backstory a little. Just kidding, it's a volleyball to the mascot groin. But if you want to know more, this volleyball game between FAU and Middle Tennessee occurred back in October 2006. FAU didn't win a single game, but to channel Mitch Hedberg, they did hit a…