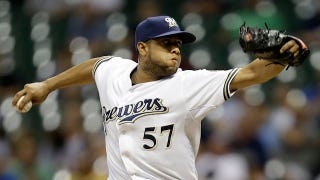 Every morning, the fine folks at Sports Radio Interviews sift through the a.m. drive-time chatter to bring you the best interviews with coaches, players, and personalities across the sports landscape. Today: Francisco Rodriguez doesn't want to talk about the past.
One day after the Angels broke the record for earliest clinching of the AL West, reliever Francisco Rodriguez started the real celebration. F-Rod earned his 57th save in LA's 7-4 win over the Mariners, tying the major league record set by Bobby Thigpen of the Chicago White Sox in 1990. By all accounts, he was a little…
In his new book The Cheater's Guide To Baseball, Derek Zumsteg looks at all the different ways baseball players and managers have cheated (or tried to cheat) throughout the years. It's a highly entertaining book; our favorite part is "Tips For Doctoring Bats For Amateur Players."