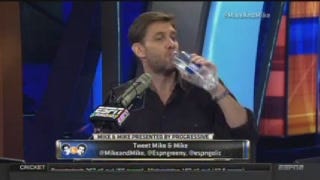 I'm not even sure why this bit is funny to me, but I laughed the first time and now I'm laughing the second time. As long as Frank Caliendo keeps reading overwrought athlete letters in Morgan Freeman's voice, he's okay with me.
Frank Caliendo was on that radio show with the two guys with the same name this morning, and he busted out many of his ESPN impressions to read "The Night Before Christmas." At this point, his voices are so good, you'd think he locked up all these personalities in his basement as part of an elaborate scam! (We can't…
Frank Caliendo went on Mike & Mike today and read LeBron's essay announcing his return to Cleveland in the voice of Morgan Freeman. It's an excellent impression. Just make sure to close the video 24 seconds early so you don't have to hear Greeny and Golic. Like a cold bucket of water, those two. (Update: YouTube…
It appears ESPN will not be subjecting its viewers to a misguided, probably-sponsored-by-a-light-beer segment with a cast of uncomfortable extras centered around a hilariously out of touch gasbag.

The retirement of John Madden, sadly, means his chief imitator is also surely consigned to the scrap heap. And so, fare thee well: Thou never shalt hear Frank Caliendo any more.
It's pretty easy to complain about those damn "Frank TV" ads that pop up seemingly every commercial break during TBS' postseason baseball coverage and pretty much everyone has. Even Frank Caliendo. (On a side note: I find the DirecTV ads featuring Craig T. Nelson and Heather O'Rourke even more troubling. Do I really…
DISH said it filed the complaint because Madden and Barkley reps have threatened imminent legal action over the national campaign. The spots feature comedian Frank Caliendo, star of TBS series "Frank TV," impersonating the 2 (see them at www.dishnetwork.com). Other famous faces lampooned in the campaign…
OK, on the day "Frank TV" FINALLY debuts, we must confess: Frank Caliendo's Charles Barkley is kind of amazing. [Brahsome]