While it's probably true in most sports, saying that a home team "welcomes" away fans to their stadium is especially inaccurate in soccer. Case in point: the chant-war waged in the clip above between Arsenal fans and their visiting Galatasaray counterparts. The flare-chucking might be a little much, though.
Felipe Melo now knows just how thin-skinned Galatasaray's higher-ups are after he was suspended for two games for retweeting a tweet that implored the club president to consume his own testicles. The tweet's been deleted, but here's a picture of it:
Christmas is here, apparently. We, however, are at work, blogging away, and as such, we were a bit ambivalent about the holiday, and the holiday season as a whole. But then we saw this video of Galatasaray and Ivory Coast superstar Didier Drogba making the days of a roomful of little Turkish children, and damned if we…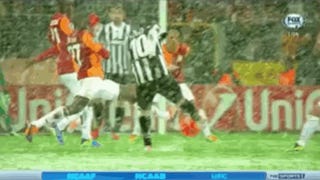 This is just stupid. The final Champions League group stage games are this week, with the top two teams in each of the eight, four-team groups advancing to the Round of 16. Most of today's matches had something riding on them with the final group standings still unresolved, but perhaps the most exciting matchup was…
OK, we're done. Lance Armstrong could fess up to drinking freshly-harvested stem cells, Bill Belichick could kill a hooker, Derek Jeter could fail a steroid test, and this would still be the biggest sports news of the day. A Galatasaray-VfR Aalen friendly in Istanbul was invaded by two perfect dogs doing perfect dog…
Update: Turns out none of this ever happened. The photo above is actually an altered version of this photo, which was taken at the Estadio De Luz in Lisbon. Our souls are safe again.
When Galatasaray's Semih Kaya adeptly directed a ball past his own goalkeeper this weekend, it knotted the much-anticipated Istanbul Derby vs. Besiktas at two goals a piece with fewer than 20 minutes remaining.
"Fortunately, [Galatasary's] Emre Colak was determined to hit his mark on the match. Taken by almost single-handedly kept alive the second set of goals. And then the ball handling skills as well as an extraordinary man in an effort to prevent or remove the opponent was a worry. In short, this young man that…