Dominic Wade lasted 335 seconds before being knocked out by Gennady Golovkin in a fashion not unlike the previous 31 men who fell by the Kazakhstani middleweight champion's fists and didn't get back up.
Tonight, on HBO pay-per-view, the next great arms race in boxing formally gets underway. Just over five months removed from the biggest financial success in its history, boxing finds itself in a not uncommon but certainly uncomfortable position: without a signature star.
Scariest Man Alive Gennady Golovkin extended his undefeated record to 33-0 with a TKO of Willie Monroe Jr. in a bout that continues the legend of the Kazakh middleweight. Some analysts expected a more competitive fight, given Monroe's 19-1 record and that Golovkin's last fight, against Martin Murray, went 11 rounds.…
We gave you one shot of GGG's second-round knockout last night, but HBO threw up the realtime and reverse-angle slow motion shots. It's worth a re-watch, if only to gawk at how ordinary Golovkin can look throwing an overhand left that would drop an APC.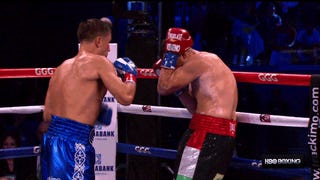 Marco Antonio Rubio only lasted to the second round before being eliminated by a brutal left from Gennady Golovkin. We're used to seeing this sort of waste being laid by GGG, but will anyone step up to present a real challenge to the Scariest Man Alive?
Gennady Golovkin has what they call a moon face: Open, apple-cheeked, with wide lips and a toothy grin and a haircut that looks like a buzz cut that's been allowed to grow too long. Moon faces imply guilelessness. Such faces seem at home on simpletons. Less so on one of planet Earth's most feared humans.
Gennady Golovkin won in seven rounds last night after Gabriel Rosado's trainer was forced to throw in the towel. Golovkin was reportedly sick heading into the fight, but it did not seem to stop him.