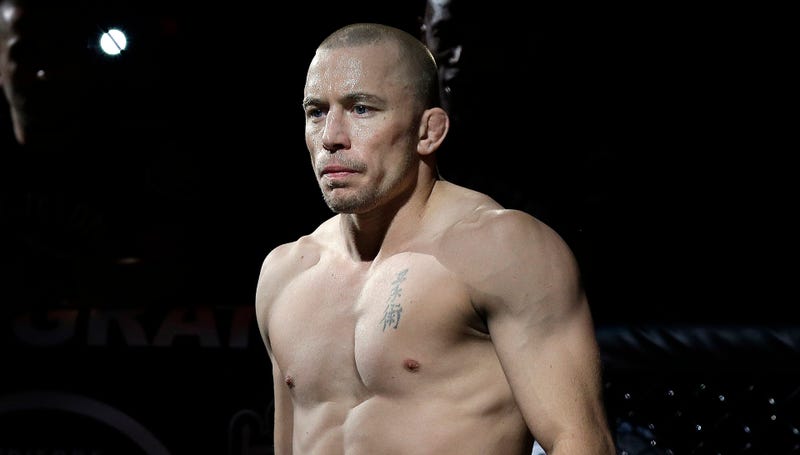 One of the greatest fighters in UFC history might be coming back soon. Georges St-Pierre hung up his gloves and vacated the welterweight title (a title he had owned since the Mesozoic era) in late 2013, and speculation about when he would fight again kicked off shortly after. He almost came back to the promotion last…
MMA journalists received a surprise press release yesterday, touting an "industry defining" announcement and conference call to take place Wednesday. Named in the release were current and former UFC fighters Cain Velasquez, Georges St-Pierre, Donald Cerrone, T.J. Dillashaw, and Tim Kennedy, as well as former Bellator…
This morning on the MMA Hour, Georges St-Pierre said that his contract with the UFC has been terminated. St-Pierre, one of the greatest fighters of all time, was rumored to return for UFC 206 in Toronto, although Dana White poured cold water on that idea over the weekend. White has expressed doubt that St-Pierre…
So UFC welterweight champion Georges St-Pierre is disappearing from the fight game for an indefinite and unspecified period of time, relinquishing his title and taking time to rest from a career that's seen him spend more time fighting in the UFC than anyone else ever has. Whether or not he ever returns, this clearly…
UFC president Dana White received plenty of pushback, on this website and elsewhere, when on Saturday he demanded that welterweight champion Georges St-Pierre—who had just finished getting pummeled by Johny Hendricks and was clearly distressed about his own physical and mental well-being after his title fight—abandon…
Nick Diaz was soundly beaten by Georges St-Pierre in UFC-158 Saturday night. When it was over, someone apparently gave him his hat and he just started talking.
A few months ago, I wrote a story about Georges St. Pierre for Men's Health magazine. It just came out. The magazine sent me to Montreal to watch St. Pierre fight Josh Koscheck. A month after that, I met St. Pierre again at a photo shoot, where I was reminded that being a writer on pieces like these is a little like…
Georges St. Pierre crushed B.J. Penn to become the best pound-for-pound fighter in mixed martial arts—even though a couple of those pounds might have been grease.