Reinis Lacis has an interesting post about the Hornets' "short" out-of-bounds play, which they used to run with Gerald Henderson. He came back to Charlotte as a member of the Blazers last night, and tried ruining the play. You'll never believe what happened next. [LamarMatic]
The Portland Trail Blazers are trading swingman Nic Batum to the Charlotte Hornets for forward Noah Vonleh and shooting guard Gerald Henderson. The deal was first reported by Yahoo's Adrian Wojnarowski.
If last night saw the nadir in inbounds plays, tonight presents the zenith. A nice play call saw Gerald Henderson peel around a Cody Zeller screen unguarded, and help defender Marcin Gortat was only able to react in time to foul Henderson, not prevent the alley-oop. This is how all inbounds plays should work.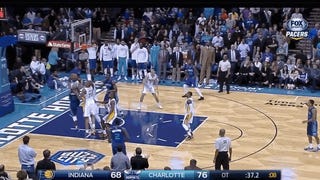 When a player bulldogs their way into the lane, it can be tough to find a teammate to pass to. With their body and focus on the hoop, most of the court isn't in their line of vision. Hitting a teammate at the top of the key, for instance, means whipping a difficult no-look pass or telegraphing their intention and…
As one savvy observer pointed out, you actually have to be in the frame in order to be posterized, but Dwight Howard is so disinterested in being a part of the play that Gerald Henderson has a relatively easy time throwing down one of the dunks of the year, one that has clear shades of Griffin-on-Perkins. (Dunk…
Poor LeBron, never getting the calls, always being targeted by the refs. But that's life in bizarro preseason, where the Raptors are 5-1, the Lakers are 0-6, and the Bobcats get every whistle against the Heat.