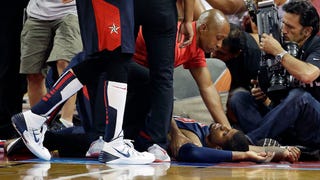 Over on the BestTicket blog, Andrew Powell-Morse has taken a look at the "most popular athlete" in each state, based on monthly Google queries over the last year.
The worst thing about NFL Sunday Ticket—the broadcast service that offers access to every NFL game, including out-of-market ones—is the part where you have to subscribe to DirecTV. The $225 you have to spend during the season to watch any game you want? Not that bad. So, what if you could just watch every game on…
This week the director of research at Google, a fellow named Peter Norvig, published on his blog the results of a fascinating deep-dive into the English language. If you're at all interested in letter frequency or word frequency, you owe it to yourself to at least skim Norvig's post. Essentially the researcher who in…
What would motivate you to Google "referee?" Nothing good (unless you're counting sexy bedroom role-play costumes, in which case, uh, nothing good). The above Google Trends graph (updated last night) shows the relative frequency of "referee" searches in the United States since 2004. The term tends to spike with…
Over at Google, today's interactive "Doodle" is a pop-a-shot basketball game. It's highly addictive. Our high score is 39, though we forgot to take a screenshot and nobody believes us. Try it out, and share your high score below, and the first person to say they broke 40, let's all call them a liar.