This morning, your Premiership highlights are brought to you by horrified woman in the background.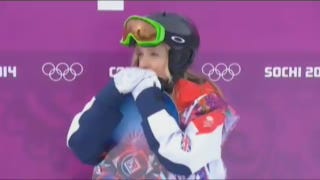 Coming into Sochi, the Great Britain national Olympic team had never won a medal on the snow at the Winter Games, going 0-56 in the events throughout history. That changed today when Bristol snowboarder Jenny Jones earned bronze in slopestyle. Her performance—good enough to put her, at the moment, into first…
At this point, boxing couldn't even beat its rap as a sham if it paid off every person who ever thought about boxing. Things are especially bad for your sport, though, when the Russians are accusing you of being below board. That's exactly what Russian sports minister, Vitaly Mutko has said about the London Olympics,…
Sir Chris Hoy claimed his sixth Olympic gold yesterday in men's keirin, adding to the home nation's medal count and inspiring fanciful ledes, like the following from The Independent:
Beatle daughter Stella McCartney (center) is a rather well-regarded clothing designer in the UK, from what I hear. So with the Olympics in London this summer, McCartney was given the task of designing the official uniforms of the British Olympians. Sounds like a dream job, right? Not exactly!
Hours after simpleton Middleton and doubly-crowned Prince William wed today, a horse named Royal Wedding won the 5.30 steeplechase at Fontwell, Sussex by three lengths. If this was fixed, it was at a great cost: bookies are predicting a multi-million pound payout, because everyone the world over believes in the power…