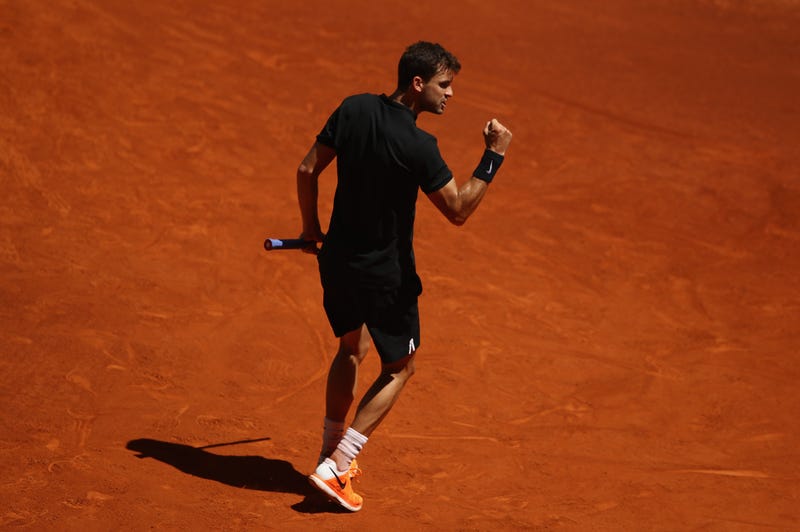 For the better part of this week, it looked like Grigor Dimitrov was ready to shake himself out of his stupor—he'd lost his opening match at the last three tournaments, c'mon man—and make these frenzied blogs look a little less stupid. He started this Madrid Open looking like a whole player again, beating two tough…
Grigor Dimitrov, the talented but streaky member of a generation of men's tennis players that's been largely overshadowed by the longevity of the Federer-Nadal-Djokovic cohort, looked poised to break out in 2017 when he started the year by winning 17 of 18 matches, knocking off three top-10 seeds along the way.…
Today, out in the Coachella Valley, the Indian Wells Masters will begin. It's the highest-profile tennis tournament in the world after the four Grand Slams, dropping a fat bounty of 1000 ranking points on its winners. Everyone in the tennis universe should be excited, except for Serena Williams and all her fans, after…
Watching a lot of Grigor Dimitrov lately, I've noticed a pattern: There's a concrete moment, usually early in the second set, when he's adequately warmed up from the first set and he decides to flip on God Mode. From there on out, you're watching a qualitatively different player. Above is that moment in action,…
This afternoon I burped and realized Grigor Dimitrov is playing tennis as well as anyone alive. Lesser players come at him and might startle him for a little—like Mischa Zverev did in the first round here at Rotterdam—but after the opening set, he remembers that he can swarm the whole entire court, can spike winners…
Halfway through February, Grigor Dimitrov—not long ago ranked No. 40, written off as a burnt-out prodigy who'd never rise to meet the hype—has already racked up two ATP titles and a Grand Slam semifinal. This past weekend the 25-year-old beat David Goffin to win the Sofia Open in his homeland of Bulgaria, improving to…
Rafael Nadal dug around and exploited two glitches in the Milos Raonic serving machine—two successfully converted break points, that is—to win his Australian Open quarterfinal 6-4, 7-6 (7), 6-4. And now he's surveying a field full of the prettiest one-handed backhands in all the land. Roger Federer's got the regal…
It can't be totally pleasant to attract premature comparisons to the greatest of all time. Too early in his career, Grigor Dimitrov was saddled with the nickname "Baby Fed," a comparison that spoke more to aesthetics than to his record of success: He has the same lethal, fluid groundstrokes as the Swiss master, that…
Diego Schwartzman took his first career ATP Tour title today in claiming the Istanbul Open after his opponent Grigor Dimitrov came to pieces over malfunctioning equipment—eventually destroying it, and handing championship point over as a penalty.
During an exhibition match against Grigor Dimitrov, Roger Federer accepted a challenge from a kid in the stands. Unfortunately for Fed, the little dude came to kick some ass.
Wimbledon defending champion and Britain's great hope Andy Murray was defeated by Bulgarian Grigor Dimitrov in straight sets Wednesday. A nation sneers.
Richard Gasquet hit an overhead winner to end a 56 second-long point with Grigor Dimitrov in their French Open second round match today. Gasquet promptly threw up his banana and Dimitrov fell to the ground with a severe leg cramp. Dimitrov never quite recovered; Gasquet would take the next three sets.
Gael Monfils beat Grigor Dimitrov in the opening round of the US Open last night, 7-6 (4), 6-3, 6-4, and then met at the net for the most awkward kiss since middle school. (Although it is certainly possible that it only seems that way to unsophisticated Americans like us.)