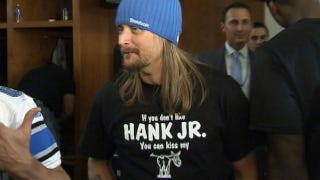 Detroit native Kid Rock celebrated in the Lions' locker room after their 24-13 win on Monday Night Football last night. "I'm Detroit 'til I die," he told gathering reporters.
You know what's inherently lame? Country music battle songs. In aggressive country music battles, the only gauge for how "bad" someone is is how angrily they can say "America" or "U.S.A." while still maintaining a legitimate twang. Nevertheless, disgraced "Are You Ready For Some Football?" singer Hank Williams Jr.…
Says ESPN, regarding Hank's analogizin' the other day on Fox and Friends: "We have decided to part ways with Hank Williams, Jr. We appreciate his contributions over the past years. The success of Monday Night Football has always been about the games and that will continue."
Hank Williams Jr. posted this apology (for a bizarre Fox News appearance in which he invoked Hitler's name in an Obama analogy) on his Facebook page yesterday, but we hadn't been aware of it until today. Man, oh man, is it a treat.
News of the temporary (for now) HWJ absence comes via CBS Sports. You'll recall Junior compared Obama to Hitler. Oh well, let's go back to happier days, 75 pounds ago, before all these Nazi socialists started running the country.
Hank Williams Jr., who exists solely to remind us that genius skips a generation, has some thoughts on John Boehner playing golf with Barack Obama: "That would be like Hitler playing golf with Netanyahu. Not hardly. In the shape this country is in?" [Huffington Post]