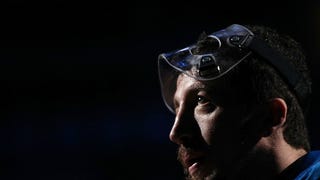 The Orlando Magic's Hedo Turkoglu was suspended 20 games for testing positive for methenolone, which is an anabolic steroid. He claims it was given to him by a trainer in Turkey helping him recover from a shoulder injury and that he failed to cross reference it with the NBA's banned substances list. He copped to the…
We no longer even care where Chris Paul goes, or where Dwight Howard goes, or if they actually ever play basketball. This photo exists, and that's enough. [Orlando Sentinel]
Some wondered if a change of scenery would revitalize a lifeless-looking Hedo. Wonder no more.
This "parody" of those Google Search Story commercials is weird, to say the least, and bordering on bat-shit insane, to say more. While Turkoglu's been a bit of a disappointment this year, it's no reason to eat him. [YouTube]
The Sixers were getting pounded by a Dwight Howard-less Magic team last night when Samuel Dalembert decided that an out-of-reach game would be a good time to get more intimate with Hedo Turkoglu.